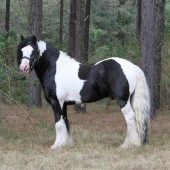 Multi Champion Stallion –  including Supreme Champion Gypsy Cob, & Champion Pinto Stallion.
Sire: Davey Wards Black & White Stallion  
GS: The Davey Wards Black Stallion
GGS: Menta Watsons Horse
GGGS: The Horse That Broke Its Back
Dam: The Spider Mare 
GGD: The Horseshoe Filly
GGGD: The Horseshoe Mare
Height: 13.2 3/4 hh
Colour: nT, EE
DOB: 01/01/2006
DNA Verified




 
Generations of top shelf breeding, The Painted Warrior  is a force to be reckoned with. 
Purchased & imported from England in 2010, he was chosen for type & bloodlines as our foundation stallion. Davey Ward has bred some of the finest cobs in Europe & anyone who knows Gypsy Horses knows these lines.
Since import Warrior has proven himself as an exceptional producer & successful showing horse – with typey, solid, heavy, correct foals that have beautiful, soft natures with some serious wow factor. 
The Painted Warrior has only ever been bred with the ultimate discernment, assuring only top shelf offspring to date. He has only stood to a few outside mares therefore his foals will retain their value.
Not only are his blood lines second to none – DNA VERIFIED GS to Davey Wards Black Stallion, this guy is a consistent winning producer, stamping all his foals with short backs, great legs, masses of silky feather, and the most gorgeous pony heads around.
These offspring are now being shown in hand and are winning Supreme Champions, Champions & attracting a lot of interest & very positive feedback from well respected, knowledgable judges & breeders alike. Photos of some offspring are included in this album.
Warrior has been very successfully campaigned & has taken out Champion Pinto Stallion at QLD ROYAL against many other horses of varying breeds.
Warrior has been successfully ridden in English &  in Western. Warrior took 3 firsts in the following classes at Toogoolawah Show in open breeds * Gentleman Rider * Stockmans Workout * Farmers Workout.
In the last 2 years Warrior has had great successes,  taking multiple firsts, Champions & Supreme Champions amongst them *CHAMPION PINTO STALLION OF THE QLD ROYAL * SUPREME CHAMPION GYPSY COB RIDDEN THE GOLD COAST SHOW * CHAMPION GYPSY COB UNDER SADDLE APSB QLD STUD SHOW and many more.
Warrior is a brave & careful jumper and has been easily jumping 1.2m meters. He loves cross country & will go at whatever you point him at with all his might. He enjoys work! He is super soft with a wonderful work ethic, and we have poured a lot into this boys education.
Warrior is a very intelligent, special & top quality boy.  From a Pinto point of view, he is particularly well marked & very well put together.
Warrior is sweet & kind and a pleasure to be around. He is really sociable and loves being with us. 
Everyone who meets him, horse folk & non horse folk all say the same thing – he has such an immense & magnetic presence.
The Painted Warrior is APSB, AGHS & QLD Pinto registered.