After alot of thought, we have decided to tell our story, as what we have been through, we would not wish upon anybody else. . . . As animal lovers, as humans who value honesty & integrity, this is an account of our Import experience with Deirdre Cash of Clononeen Farm & Lisa Dowling who was then Greener Pastures, and has many different Stud names since then.
We had dealt with Clononeen Farm on a number of occasions, their motto is "WE ONLY WIN IF YOU DO…" 
Cash was always delightful to deal with, an apt saleswoman, pushy, charming and had the gift of the gab. 
THE LIONESS
In 2012, I found The Lioness for sale. DNA verified daughter to the late Lion King. I was thrilled at the opportunity to add such a diamond to our herd. Lioness was in Ireland so I let Deirdre Cash know about my discovery. We had bought horses from her and had no problem thus far.
Cash said that the seller was "a good friend of hers" and she would be happy to be the go- between and help with contracts, DNA, phone calls and the like, for no charge, as a favour amongst  friends.
After the DNA checked out, vet reports giving The Lioness the green light, and contracts signed, I deposited a record amount of money in the sellers account for The Lioness.
Cash contacted us saying the seller wished for the mare to be removed from his property as she was attracting far too much public attention, and feared Lioness may not be safe there, and Cash offerred to organise agistment in a "safe place" where she would be out of the public eye. That place was a polo club in Bunclody, Co. Wexford. We paid her agistment in advance to Ms Cash.
In an email regarding her agistment at the Polo Club: 
 it will probably put your mind at ease, knowing that she is tucked safely away from prying eyes. (omitted) is aware that she is a very valuable lady =)
A few days before Lionesses was due to foal, she was stolen. 
Cash called and informed us of this heart breaking news. 
How could this be? Our prize mare, who cost us an absolute fortune stolen? And, just a few days from her due date? She was apparently hidden and only a couple of people knew she was there, Deirdre & the seller.
Ms. Cash seemed definate that local travellers were responsible for this. 
We contacted the local Bunclody Police, the seller,  and made a huge social media campaign. 
Cash told us that " they were after the foal, and if its a filly, you wont see it again, but you will get the mare back." She seemed very sure of this, and compared it to the story of Shergar.
It was a heart wrenching time, with daily calls to the Bunclody police, the seller, Cash & any other leads.  
I felt hopeless. I decided to book a plane to Ireland, but Cash dissuaded me from doing so. She was VERY firm & told me to stay with my family, as she was doing everything possible that could be done.
The days wore on, sleepless nights, and then the news came that we had been praying for…The Liones had been found!!!! 
She was in a sorry state. These heartless crooks had  stolen her foal, and dumped her by the roadside, separating mother and baby in a cruel and selfish act. Thankfully, Lioness would be okay. The attending vet said he beleived she had been induced. 
Clearly those responsible had nanny mare(s) lined up in order to feed the foal after LIoness had given the foal her colostrum for that first vital day or 2. 
We imported her to Australia a few months later, once confirmed back in foal to China Doll, the same breeding that had resulted in the theft of The Lioness and her foal.
Months later, after the event, when we spoke to the seller, he told us that he had NEVER asked for The Lioness to be removed from his property! 
So why would Cash say that? We were also informed that Cash had secured a large sum of money from the sale for her "help" which she told us was 'a favour amongst friends…" 
Several details came to light that we could not have known before. This reeked of an inside job.
No charges have been laid, and the foal has not been found. 
Thankfully, we have our mare safe and sound…..and Deirdre Cash is known for what she truly is. 
AUTUMN & LULU
We purchased these two gorgeous mares from the Cashs' for import to Australia.
After The Lioness debarcle, we became a little dubious of our overseas "friends."
Cash pushed us for the export of the mares, who had stayed until the youngest was old enough to be served by the stallion of our choice.
But we then found after questioning that one of the mares was not in foal to the stallion we had requested. 
Cash simply said, " We sold that stallion…" yet, she never gained our permission, nor sought advice as to who we may like to use instead. Things deteriorated rapidly.
After Cash read comments on Facebook page about a stallions DNA file number i had offerred to another of her unhappy clients, who had not received DNA as promised ( we were in the same boat ), she called me from Ireland. 
The line was bad, and it kept cutting out. She told me I was off her Christmas card list. 
We then received a voice memo of her husband Roy whistling The Kill Bill theme. I took this as a direct threat. I could not understand why she was causing such a terrible commotion over me helping someone out with DNA. 
I called then her & Cash said "it was a joke…" ….. What a sick sense of humour. I told her to deal with the unhappy client, not me, I was just helping this woman out. 
Understandably, the unhappy client wanted this stallions DNA file number. I did not offer the fingerprint – just the file number! I told Cash her and I were done, and once my mares & foal were out of there, our business dealings were over. Cash said, " Are you sure you want to go down that road?" 
She had finally shown her true colours…..
When the time came to remove the mares and foal, very shortly after , Cash held us to ransom for agistment fees that had never been agreed upon. We were extorted for a large sum of money, and had to pay it, as the mares needed to be removed and she would not let them go, and legal fees would have cost more than her ransom fee. She tacked many other fees to add insult to injury.
The mares were shipped to a safe place in England, and we were contacted upon their arrival. They were in transit two days, and had stayed overnight at a stop point, fed and well watered. Both mares were in a sorry state on arrival , to say the least. One mare miscarried her foal in the first couple of days of being settled in at the new abode. She was the most poorly one. 
I have contacted Cash via email but she refuses to respond.  You will see for yourself, that I have not fabricated this story, but infact the mares were infested with lice, one had no mane from rubbing the itch, had serious skin infections, including scabbing & oozing of the skin,  nasal discharge, cough, elevated temperature, and were malnutritioned. One scored 2/5 for her overall condition, the other2.5/5. The vet said this had not happened on a two day transit, but infact had transpired over a period of time to present in such poor condition.
We paid weekly board for these mares to be kept by Cash at Clononeen Farm at 30 sterling each a week, and what we got was heartbreaking. Below, I will attach the vet report for the mares.
*******************************************************************************

Examination  of equines  at Barclay Springs, Stockton on Tees. UK.

Autumn.
Microchip number ( omitted ) 
Blue and white filly, 2years old (confirmed by dental examination).
Findings:-
Superficial dermatitis present along the back (rain scald) and occasional lice seen. I requested that the mare was treated with louse powder. Body condition score was graded at 2.5/5. Manual rectal examination revealed that this mare was in foal and quite far on, but accurate ageing of the foal was not possible due to its' position at the time of examination. At the time of the examination the mares temperature was normal and there was no nasal discharge seen.  A blood sample was taken which showed shift in the white blood cells which would be consistent with an infection. Other bloods results were normal. The horse had been heard coughing whilst in the stable. A course of antibiotics was prescribed.
On re-examination, the mare was bright and eating well. There was no nasal discharge and Miss (omitted)  reported that the horses had stopped coughing. There were no viable lice seen following louse treatment.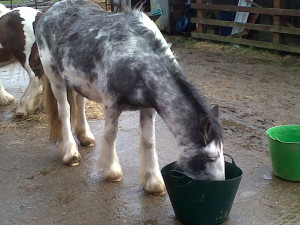 Lulu.
Microchip number  ( omitted )
Skewbald mare, 3 years old (confirmed by dental examination).
Findings:-body condition score 2/5- under conditioned. Widespread scabbing and oozing of skin along the back neck and gluteal region. Rectal examination  revealed an empty uterus and ultrasonography of the reproductive tract  revealed a non gravid (non pregnant) uterus which was of a normal shape and not sequestering any fluid. Miss ( omitted ) has found a small, undeveloped foal and associated membranes in the stable.
There was some clear nasal discharge seen bilaterally and at the time of the examination. The temperature of the mare was slightly elevated.
Bloods were taken to check the health of the mare and ascertain as to whether there was any other contributing factors or disease which would make the mare look so ill. The blood work revealed a lowered immune system, but no other sign of disease. Antibiotics were prescribed. On re-examination following the antibiotics, the mare was much brighter and eating well. The scabs and crusts in the skin are growing out and the underlying skin condition was healthy and normal.
I have recommended that Lulu is treated with weekly vitamin injections to boost the immune system and that she is washed with a medicated shampoo to help loosen off and remove the scabs.


Lulu's foal.
The foal was extremely bright. Body condition score was 3.5/5. He was bright and active. The skin showed some signs of having had a previous bout of rain scald on an area of the back, but this was resolved and had healed.
*****************************************************************************
I spoke with the vet directly after she had visited the mares, and she was apalled at the condition of both. She stated there was no way they could be exported in such condition and they would need 2-3 months of care to bring them up to a satisfactory condition.
We paid alot of money for these mares, and trusted they would be cared for.
We still have not received DNA as promised for several of the Clononeen horses, several of which we paid for upfront with the lab. 
We have been sold two mares who were starved and sick, one so poor she aborted. We were forced to pay extra agistment  at £1070.00 that was not agreed upon, before Cash would allow the horses to be picked up. We were promised free livery for one filly until she was at an age she could be put in foal. We agreed to pay livery from that point on, yet we were billed for her livery from the original date of sale! One of the mares was covered by a stallion whom we did not approve of or choose.
We have emailed vet reports to Cash & asked for reimbursement, but our emails still go unanswered.
Are these the actions of an ethical, caring, & professional breeder? A well known breeder who exports internationally?
WHAT HAPPENED NEXT …
As the mares could not be exported & needed care, we enlisted the services of LISA DOWLING, then Greener Pastures Stud in England.
We had paid money on a silver dapple colt who was to come to Australia, & Lisa offered to help us care for the mares in return for livery, vet bills & a foal from one of the mares. We agreed.
We paid the vets directly, and deposited money for other costs into Lisa's account.
Things went swimmingly for a short time, and then Lisa was uncontactable. 
Her phone was disconnected & Facebook account deactivated.
I made some enquiries, and enlisted a service to locate her.
She had done a runner with her son to Brentwood in Essex, England, where she was being supported my a very old man who was her sugar daddy. 
I booked a flight and headed over.
I called her once I had arrived and things went south quickly. Lisa said she would not hand over the horses passports & therefore there was no way I could move them.
The silver dapple colt did not exist. It had been a scam.
Within 24hrs I was able to negotiate the utter mine field of madness, & with the help of a very wonderful family, we collected the mares & colt. I walked away from the several thousand pounds we had paid on the colt. I have bank receipts for the money we paid. 
Her own cousin informed me of what a con woman Lisa is, and its well known in the UK, which is why she constantly had to move.
The owner of the livery yards where she kept her horses had not been paid since she arrived. The local stockfeed had a huge account unpaid too. There was a trail of destruction left behind by this woman and her son.
The state of all of Lisas herd was shocking. They were all lice infested and starving.
We had gone from one bad bunch to another equally as bad.
I have photos of the horses when we picked them up. With a few month of care from a reputable family & stud, they all picked up and were flushed of the shocking parasites they were burdened with. Medicated washes to remove lice, antibiotics & vitamin shots.
Lisa Dowling was trading as JEWEL FARM in England on Facebook. We have since been contacted by the genuine proprietors of Jewel Farm who have advised us that Lisa has been evicted from their establishment & police have been involved in the matters that transpired there.
Its all behind us now, we have our beautiful horses, who are glowing, and a picture of good health.
We have learned some very valuable lessons. We were trusting & naive.
IF YOU ARE WISHING TO IMPORT, DO YOUR RESEARCH, SPEAK TO OTHERS WHO HAVE DEALT WITH THESE FARMS AND BREEDERS. TAKE YOUR TIME….AND BE VERY WARY OF LEAVING YOUR MARES TO FOAL DOWN OVERSEAS. 
* GET EVERYTHING IN WRITING & SIGNED BY BOTH PARTIES
* GET DNA VERFICATION BEFORE EXCHANGING MONEY
* DO NOT BUY SIGHT UNSEEN – The cost of airfares may save you 25k AUD for the horse flight
* DO NOT LEAVE YOUR PREGNANT MARE TO FOAL DOWN OVERSEAS
There ARE great studs to deal with. But beware of those that have consistent bad raps! There IS A REASON FOR THIS!!!

Since posting this, we have been contacted by numerous folk, all around the world who have also been terribly burned by the Cashs' & Lisa Dowling. 
We are not an isolated incident. There have been many in Australia alone! 
I have kept all email correspondence, vet reports etc and am more than happy to share this information if it saves one family the heartache & financial loss we have been through.
If our experience helps just one person, then this page has done its job.
Good luck!