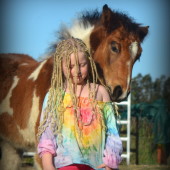 Sire : ITS Boester IMP
Dam : Lucy Lockett IMP
Bay Tobiano Filly
DOB :  May 2015
EHM : 14.3hh
Comes AGHS Registered
Hendra, Tetanus & Strangles Vax
DNA & Colour Verified
$16,500 plus GST
Our last foal of the season was certainly worth the wait.
Known affectionately as May, this charming angel is just pure love. She is the most easily handled, well mannered, inquisitive darling heart. May has melted every heart thus far.
Imprinted at birth & handled daily, this girl is the most human oriented horse & part of the family. 
At just 2mths old she is already well on her way with liberty groundwork. She canters up to you onsight, and tips her nose into the halter. She picks up all 4 feet and yields to pressure.
The world is her oyster with such a trainable nature, athletic physique, curious mind, textbook conformation & killer looks.
The total package, this filly is a dream come true.
May is the perfect family horse, who is handled by small children, desensitised to machinery, animals, motorbikes. 
This sale is a total heart breaker as we adore Amazing May more than words.
An experienced, forever horse home is a must.
Please contact us direct for more information.