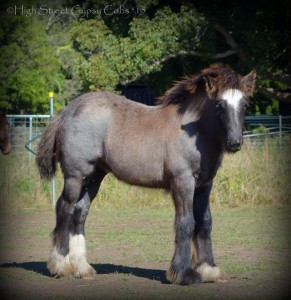 Sire: SD Blue Suede IMP ( ex Black Jack USA) 
Dam: The Madonna Filly IMP ( ex Dick Smiths Black Stallion UK ) 
DOB: 30/01/15
EHM: 13.2hh
Colour: Ee, N/Rn
Solid Blue Roan Purebred Gypsy Cob Filly

This very special solid blue roan filly is from an imported, solid blue roan stallion SD Blue Suede & a solid black mare The Madonna Filly. Both parents are of impeccable breeding & are very heavy types & their joining has brought us this very special filly.
With generations of back breeding this lady is an absolute diamond & has the most forward, curious, loveable nature. She is so soft, with the kindest eye & will be a very valuable asset to a quality breeding program or as a new addition to the family.
Textbook conformation, colour, bloodlines & temperament, this girl offers astute buyers the entire package.
We are thrilled with this beauty, who we call Violet  & are thoroughly enjoying her unravelling into a very stylish, heavy, head turner of a filly.