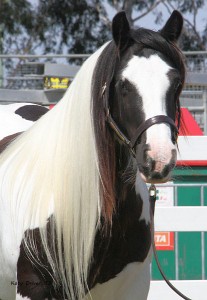 Sire: Davey Wards Black & White Stallion
GS: Davey Wards Black Stallion
GGS: Menter Watsons Tom
GGGS: The Horse That Broke His Back
Colour: nT, Ee
Sweetcheeks was one of the first to arrive here at High Street.
She greeted me like we were old friends, and we have never looked back. This mare would put some stallions to shame, a tanky young lady who has such presence, & looks to kill.
At 13.3 this girl is proportionate, strong, as wide as she is high, heavy in bone & hair, with the most affable nature.
Sweetcheeks takes everything in her stride, her first debut was Queensland Royal, and she did us so proud taking out 1st Pinto mare under 14hh.
Sweets has everything we look for in a top shelf cob, and her 2012 filly, The Dreamcatcher & 2013 colt The Peaceful Warrior are the epitome of what a proper cob is.
This lass will forever remain with us & is now going under saddle.