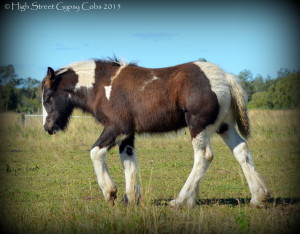 Sire: ITS Boester IMP
Dam: The Lioness IMP
DOB: 16/01/15
EHM: 14.3 – 15hh
Colour: TT,EE,aa
GELDING
An absolutely dashing young man, enough to make you weak at the knees…
I call this guy Elvis, he is the coolest dude imaginable.
He certainly makes my heart skip a beat.
Already you can see he is a big boned boy, with plenty of leg, immense presence, strong frame, & is beautifully marked with blue in both eyes.
He is heavy set & short coupled and is laden with hair & feather. Imprinted at birth, he is very affectionate & well handled. 
High Street's The Soul Man will finish around 15hh. He is  from two top shelf parents, and is really subdued, relaxed, and takes everything in his stride. Nothing really ruffles this guys feathers and he will make the perfect family companion or kids horse.
This young,man is a beautiful boy & requires a special home.
* DNA Verified
* Colour Typed
* Microchipped
* Tetanus, Strangles & Hendra Vaccinated
* Up to date with worming & trimming