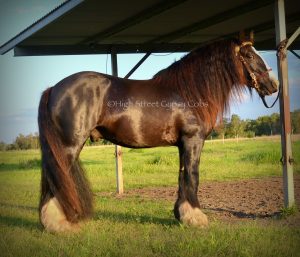 Sire: The Horseshoe Stallion (Brother to The Horseshoe Mare) Imp Uk

Dam: GP Primrose
GS: The Pitter Horse
GD: The Old White Mare
DOB: 09/12/12

Old school lines like the Horseshoe Lines are revered world wide. Son of the late Horseshoe Stallion who was a most respected stallion in his time & one of the greats as well as brother to The Horseshoe Mare. Going back to The Old White Mare, this boy is one for the serious breeder or loving family home that wants a very correct, type, sound, sane, affectionate addition to the family.
I bred this gorgeous black Gypsy Cob from the lovely Imported mare Primrose + the world famous Horseshoe Stallion (dec)
Handled from birth, this guy is just cool, calm, collected + magnificent in every way. His lovely dapples shine like diamonds in the spring + summer sun + he loves people. Being so quiet, easy to handle in all ways, people are constantly amaze he is a stallion!
This young man is growing into a dashing man, carrying on his fathers legacy. Horseshoe is very well put together, with good joints, elevated movement, remarkable presence, and a darling nature. He is still growing + will finish around 14hh.
His mane is thick + long with a tail to match. His feather is bog burned from all the mud we have had, but its quality. its its straight + lots of it.
He is conformationally correct, with a lovely short back, great joints, is unflappable + remarkably intelligent. He runs with 2 other stallions no problems. He is very trainable, kind & exquisite to look and is easy all round.
He has a heart of gold & will do anything he is pointed at. With no flaws or vices, this lovely quiet stallion is ready to start & is very athletic so will make a fabulous all rounder, ride / drive.
I had plans to start this boy in harness but due to this injury, plans have changed. Horseshoe is quiet enough to go fine as a gelding, he has no coltish behaviour + would be a wonderful gelding , he is so easy to keep, no need for rugs or fussing, he is just one of those fantastic doers that gleams all year round!
Watch Video Footage of this phenomenal man here on You Tube https://www.youtube.com/edit?o=U&video_id=9YFbiozYOh0
SIRE: The Horseshoe Stallion IMP UK