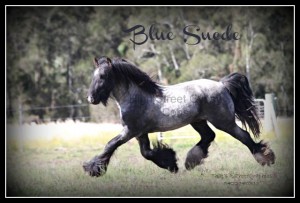 Australia's first true blue roan … this man is what dreams are made of.
Son of SD Black Jack with Grandsires SD Jack & The Wooly Mammoth, this boy has top shelf breeding, which is reflected in his super heavy, compact body, profuse amounts of feather & hair, lovely little head, and playful, sweet nature.
Blue Suede will make his show debut at The Gold Coast Show 2013. We will selectively breed him with a few of our best mares & see the results in 2014.
SD Blue SUede will not be standing at public stud.