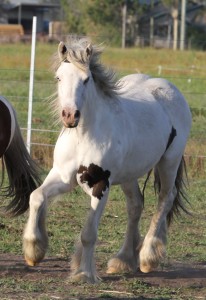 Sire: Clononeen 007
Dam: Clononeen Aglish
DOB: 8/6/12
We welcomed the stunning Ondine on Friday 8th June 2012. As she was imported in utero from the UK, she was born during our winter, which was cold & wet!
She was a marvellous surprise, being mostly white, and minimal black, a perfect Checkity marked filly! With two blue eyes, very compact, strong body, long legs with clean, flat bone & plenty of it….this little lady is certainly a rare & beautiful gem..
Ondine has somehow coined the nickname Undies – because she is stuck to me! Literally in my back pocket – always.
This filly is everything I have ever dreamed of – a true Fairytale horse!
EHM 13.3hh.
Comes APSB Registered, Parentage & Colour DNA, Microchipped, Hendra, Tetanus & Strangles Vax
$22,500 AUD plus GST