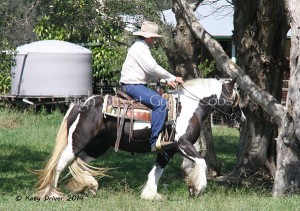 Sire: Sootys Stallion
Dam: The Spider Mare 
DOB: 01/01/2003
Primrose Imp UK is out of The Spider Mare by Sootys Stallion, & is one of our foundation mares & is going under saddle.
At 13.3hh Primrose is a one stellar mare, with straight, soft feather, clean joints, great legs, a super pretty head, well marked, and the most remarkable nature. Primrose is a proven producer of top quality, including High Street's Patience & The Horseshoe Stallion. 
The Horseshoe Stallion is an amazing solid black colt from Primrose in 2012 by The Horseshoe Stallion & she has been rested for a year & broken in. 
Primroses 2011 Filly High Streets Patience is an absolutely cracking filly, a marvellous example of the top notch quality this mare produces! 
We can do anything with Primrose, she is just such a sweet heart and a delight to handle. 
She is going beautifully under saddle. Soft, sensitive & certainly takes good care of her rider. She loves outings to the beach & is cool on the road, in the bush & public places. 
This mature mare is happily a beginners girl or ready to go in with for the more advanced rider willing to put in the hours and energy. She is receptive & willing, with a big heart. 
Primrose has been an integral part of our falling in love with the breed. No nonsense, no fuss. Full of goodness, generous & a brilliant broodmare, one of our favorite foundation mares, producing better than herself each time … and always giving the best of herself. We have been blessed with 2 quality offspring that have the kindest, laid back natures from the outset, who have grown into into so much more than we could ever have hoped for. One filly from Davey Wards Black Stallion , Patience & a priceless colt from The Horseshoe Stallion. Primrose had a colt, GP The Gunslinger before coming to Australia. Last update he was being very successfully shown in the UK by his owners.
Primrose is a traditional girl, with fabulous back breeding. Standing at 13.3, registered with the APSB, microchipped, pass ported, DNA for colour & parentage, Vax for Hendra, strangles & tetanus. 
Everything she does is done willingly…. She will make one lucky someone's year.
This lady an absolute diamond & requests a forever home where she will shine. 
For sale in foal to SD Blue Suede ~ 
Contact Talitha on 0433453998.
Colour DNA – nT, carries one copy of the Tobiano gene. EE, Homozygous for Black Factor. Horse carries two copies of the Black gene. Horse is Black based.
PRICE REDUCED to just 22,500k plus GST, including foal in utero.