HIGH STREET'S ONDINE – Gypsy Cob
8/6/12
Sire: Clononeen 007
Dam: Clononeen Aglish
 We welcomed the stunning Ondine on Friday 8th June 2012. As she was imported in utero from the UK, she was born during our winter, which was cold & wet!
She was a marvellous surprise, being mostly white, and minimal black, a perfect Checkity marked filly! With two blue eyes, very compact, strong body, long legs with clean, flat bone & plenty of it….this little lady is a keeper.
HIGH STREET'S THE HORSESHOE STALLION
09/12/12
Sire: The Horseshoe Stallion Imp UK
Dam: GP Primrose Imp UK
Another blessing for us, this is our second Horseshoe foal and also the last. The Horseshoe Stallions spirit lives on, and this young man is nothing short of spectacular!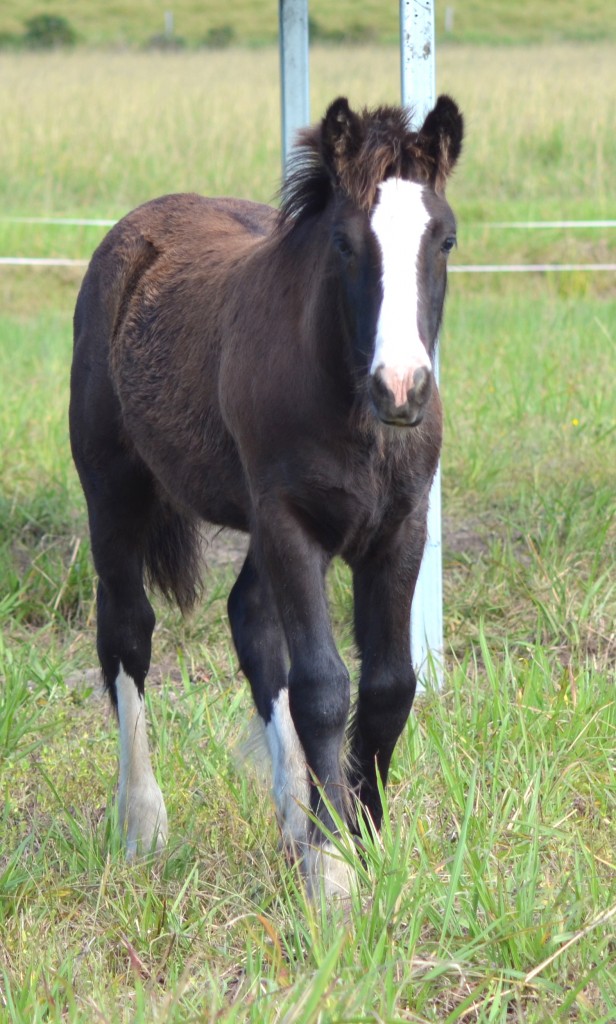 HIGH STREET'S EVA – Drum Filly
15/7/12
Sire: ITS Boester Imp Netherlands
Dam: Yoothapina Gumnut – Clydesdale
The delightful Eva graced us with her presence early in the morning of 15th July. She is ITS Boesters' first Drum foal in Australia & already has lashings of feather, plenty of flat bone & is marvellously tall! Boester has certainly stamped his girl with his trademark good looks, sweet head, heavy bone, solid and correct conformation & gentle nature. Naturally, we are thrilled & Eva will stay with us to be a ride and drive mare for the future.

HORSESHOE'S BLACK MAGIC FILLY
7/9/12
Sire: The Horseshoe Stallion ( The Pitter Horse X The Old White Mare)
Dam: The Madonna Filly ( Full Dick Smith's breeding  )
We  awaited this foal with bated breath. Daughter to our beloved Horseshoe Stallion who passed in June 2012, this filly represents so much to us & she carries on her fathers legacy. 
She is absolute perfection & is the spitting image of her father, down to the shape of her nostrils and the way she smiles. 
Black Magic Filly entertains us for hours, lays in our laps for scratches and cuddles. She is far more to us than words can express, and will be with us for life at High Street. 
HIGH STREET'S STORM BOY – Partbred Gypsy Cob
Sire: GP The Painted Warrior (IMP)  
Dam: Kenda Park Felicity
 Storm Boy is a stunning bay and white part bred Gypsy Cob, from none other than Greener Pastures The Painted Warrior, Supreme Champion Gypsy Cob.
Out of Kenda Park Felicity, a Welsh Mountain pony mare, Storm Boy has  flashy movement and action, coupled with a sweet dishy pony head, commanding presence, clean joints, and very impressive conformation. He is well feathered for a partbred, and will make a perfect childrens show pony. We estimate him maturing around 13 hands, and will be sold gelded. 
Storm Boy has been handled since birth, is used to motorbikes, cars, dogs and cats, his best playmate is our Siamese Persephone! This boy is inquisitive playful and affectionate, and will be sold to an approved home only. Storm Boy comes registered, microchipped, vaccinated, DNA verified and wormed. Please contact us for more details.  

© High Street Gypsy Cobs 2011. All rights reserved.