Bay Tobiano Stallion
Sire: ITS Baxter 
GS: ITS Thunder 
GGS: Gypsy Elite Pride & Joy
Official Height: 14.3hh
DOB: 25/05/2008
Colour: nT, Ee, Aa
APSB REG # 75472
DNA & Parentage Verified
AT STUD TO APPROVED MARES
Boester is an exquisite bay tobiano Gypsy Cob stallion from ITS Baxter, a highly sought after breeding stallion in Denmark, now deceased.
The magnificent Thunder is his grandsire, from Pride & Joy of Gypsy Elite, USA. His Dam is Tinky. Model Gypsy Cob, 1st Premium in hand and under saddle.

Since coming to Australia, we have shown Boester  3 times in hand, and each time he has placed 1st in his class. He has been started under saddle & we have put a lot of time & energy into his education.
Boester is a well mannered, sweet man, who has fantastic movement & impulsion, he is well suited to many disciplines, pleasure riding / driving / western / dressage, and has an absolutely captivating presence so will do well in the show ring.
Officially measured at  14.3, he is a  heavy, good natured boy with quality, clean, flat bone, & loads of feather and mane. His colouring is truly divine, very well, evenly marked, but his character is what makes him unique. He is smart & trainable, and really wants to please – the world is his oyster.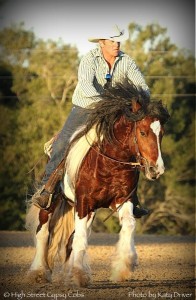 Boesters progeny have been very impressive. He is consistently throwing height and heavy boned foals with loads of feather from day one, with quiet sweet, trainable natures. Boesters Drum foals are nothing short of exceptional, with sweet, tidy heads, a far cry from the coarse heads we often see with Drum Horses.
ITS Boester is a sought after breeding stallion in Australia, and his progeny are a very valuable assett to any serious, discerning breeding program.

If you wish to breed to this exceptional Stallion Contact us for an Application Pack.

SERVICE FEE $1650 PLUS GST
Live Cover & AI Available
BELOW ARE SOME OF BOESTERS EXQUISITE PROGENY &
CLICK HERE
FOR ANOTHER ALBUM ON HIGH STREET'S FACEBOOK PAGE